Through Arkansas and into the Mid South – River city MemphisTN, home of Elvis and the Mississipee
Pulling out of Oklohoma and driving across the state line into Arkansas the generator warning light came on.
Leaving behind those grand looking RV's at the KOA in Checotah we set out sights on Memphis, quite the journey in one day to cross Arkansas. One thing we noticed about American RV's – the cars they tow behind the rigs to use as the runabouts were sometimes as big as the Westy, quite the contrast. One wonders how often they move from park to park and the lifestyle of the grey haried RV dwellers. Regardless Checotah was very popular and the people stopping there clearly wealthy.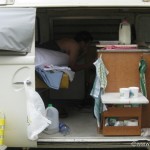 .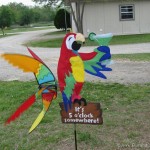 .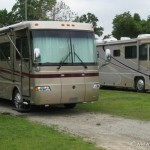 All was going well until the generator light came on and we started to realise it was not fibbing. No charge from the dynamo and confirmed with the voltmeter. A quick stop and a check confirms nothing is loose, checking the large cable from the dynamo D+ to the regulator, the smaller field wire, the large wire from the regualtor to the battery all looked intact. Carefully pulling the brushes shows there is material there to create a good contact with the stators we deduce the problem is indeed non trivial and we have a problem, the dynamo is now dead and we have a steadily dropping battery voltage.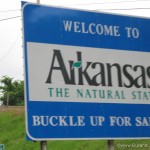 .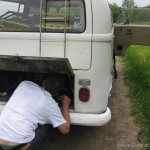 .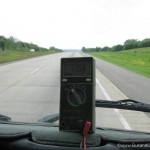 Another stop at a Autozone we stock up on some larger tools in readiness to change out the dynamo, however this Autozone and non around here have a refurbished generator so we end up gambling on the regulator. Needless to say it was NOT the regulator. We purchase a battery charger and make a gamble that we can get to the next KOA and re-charge the battery for the next day. Hmm. Driving carefully so as not to use indicators, brake lights etc. Amazing what you notice when driving slowly and takign in the surroundings – only in America with its Constitution will you find such amazing shops called Guns and Ammo. Amazing. Check out the alternative transport on the low loader.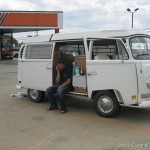 .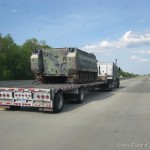 .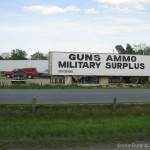 Without stopping we limp to the KOA in west Memphis and upon arrival we foolishly turned the engine off and had to be pushed onto our spot. This KOA did not have such an amazing selection of RV's, must be a less ideal stopping place and more a stopover maybe. A cold beer and a glass of wine later (from the winery we visited the day before). Lets see how that battery charger works overnight.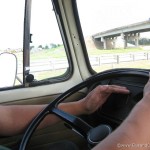 .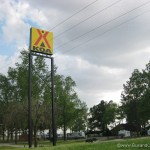 .