A big engined Bus and a drag strip calling – does my engine look big in this
The Bus is now sort of painted and our attention turns to the engine and drivetrain. With a keen eye on the BWA club in England www.buseswithattitude.co.uk – we'd like to prepare something that is along the lines of fellow members rides. To be a member of BWA is reasonably involved but the essentials are to run an observed and timed sub 18 secs on a 1/4 mile in a Volkswagen Bus.
There are many aftermarket parts for the air cooled engine from mild to wild, cheap and expensive. However, with the phrase 'Fast, cheap, reliable – pick 2' ringing in our ears we aim to choose the fast and reliable options – in other words its not going to be cheap.. Or as the Nascar guys say – go big or go home.. hmm.
Its fairly easy to see that 94mm pistons are about the biggest pistons we can fit within reason to a normal-ish block – stock 1600 is 87mm btw. This choice of piston comes with its warnings – too little cooling and the cylinders will warp and allow blow by – lots of oil fumes in the engine bay. Hmm. All the big engines choose this piston and then concentrate on cooling. The next alternative we could see was for thick walled 92mm pistons and cylinders – here the cylinder walls are thick and sturdy and could withstand some heat abuse we would presume. Close call – but in the end most of the BWA guys are running 94's – so that's that.
Next up is the stroke of the crank. Stock 1600 is 69mm and with a bewildering choice of strokes available it would seem confusing. However a conversation with the engine builder – Brothers VW machine shop Ontario California – reveals that if we start with a stock case it is relatively easy to fit an 82mm crank – whereas an 84mm is more work. Presumably those special cases are designed with 84+ in mind. So we have a 82mm stroke and this makes our cc at 2276cc and with the right breathing this should be enough for a BWA run.
We'll need some good breathing for this – but something that will also run in a relatively heavy bus – so with advice from brothers we go for a pair of Dual Weber 44's mated to a pair of their mini D ports 40mm x 35.5mm heads – this is going to be an exciting engine. To help with the theme of a low revving but torque delivering engine we chose a full 1.5 inch merged A1 sidewinder exhuast and finally with all that a rather tame but very capable Engle 110 camshaft.
Brothers built the engine as a longblock but also dyno ran the engine with spare ancillaries to achieve a tune on the carbs and to show an approximate hp number at the flywheel.
This is what they ran on their engine dyno;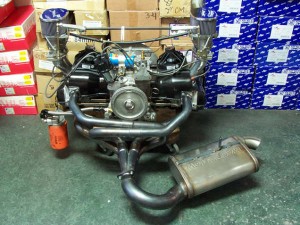 And to show this was run briefly – no shroud cooling;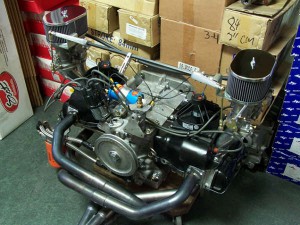 Once delivered this is what it looked like – ready for those ancillaries – here the timing is preserved with a German 009 and electronic ignition;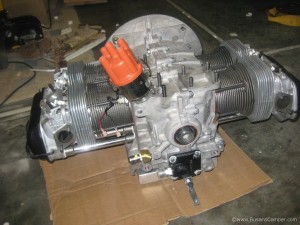 And the all important balance marks on the Kennedy stage 1 clutch cover and new flywheel;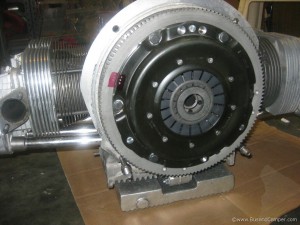 And this is after being fitted with doghouse cooler, Berg pulley, Berg Bus breather tower, vented valve covers, alternator and the oh so expensive A1 1.5 inch ceramic coated merged header and matched 1.5 inch heater boxes – spot the Porsche pulley bolt, CSP centre pull linkage – cant wait;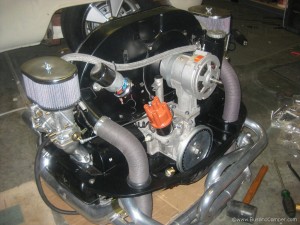 The rear view to show the plumbing for the petrol line and breather hoses – thats also a welded fan in there;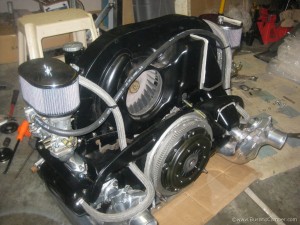 The full build spec..:
New dual relief case clearanced for 82mm crank and cut and decked for 94mm pistons
Forged 82mm crank with std journals
94mm Mahle stroker pistons and cylinders
Mini D ported heads cut for 94mm running 1.25 ratio rockers
Engle 110 camshaft
Matched mini D inlet ports
Pair dual 44 IDF webers jetted
Bugpack lightened followers / lifters
Cut aircooled net aluminium pushrods
Bugpack cam gear and double thrust cam bearings
H beam rods with ARP bolts
Berg achiever Pulley with sand seal
Berg Bus tower breather box
Stock valve covers with breather vents
Deep sump
stainless pushrod tubes and viton seals
German 009 with electronic ignition
Kennedy stage 1 clutch cover balanced to a new flywheel
new HD gland nut, billet cam plug and sump cover
Full flow oil pump and AN fittings for block
CSP centre pull linkage
And in exchange we handed over a load of cash to various suppliers – the most impressive to deal with was Brothers VW.