Walmart Supercenter comes to the rescue with a new car battery
Although we had AAA we wanted the challenge of getting home under our own steam – but with a a dead battery on cold Sunday morning our options were running out.
So the battery charger did not recover the battery enough to start the engine in the morning and this was now Sunday morning. Using Google maps we found a Walmart that was close and the internet told us it opened at 9am. So after a jump start from the KOA owners (nice people) we figured we would drive there, leave the engine running and go buy a new battery. Fortunately for us the battery came charged and the engine re-started. Phew. We were on our way again. The Memphis skyline and the bridge over the Mississippi – the largest river system in America.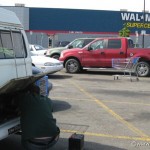 .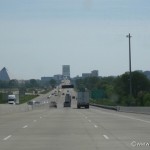 .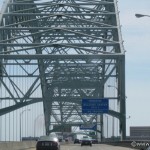 The challenge we presented outselves was to get as far as we could into the Great Smoky Mountains before we had to use our lights – remember we had no charging system other than at KOA sites. So a whole day planed on the I40 mmm. One highlight was where the I40 cuts through Memphis and provides some wonderful sights of the buildings and structures in the city, including the iconic Pyramid arena.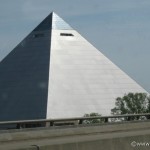 .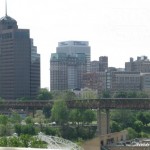 .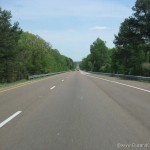 Past Memphis the I40 stretched out in front of us, lots of green around us – trees and other flora and fauna includin our first ladybird. Tennessee is where Country Music started and Nashville was home for some of the greatest artists like Johnny Cash and Dolly Parton and is known as Music City. Lunch on the move, which in a walk through campervan is possible although with all the things we were collecting – tools and spare parts you have to be organised and make use of storage areas. Along the way we were passed by some more military looking vehicles. Otherwise fairly uneventful. Spotting tag plates we saw our first North Carolina. We also saw lots of poeple either texting, talking on the phone, wearing beards, listening to ipods, wearing a dog on their lap or.. giving us the thumbs up (some weird guy in a BMW).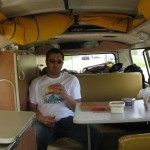 .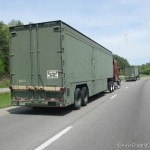 .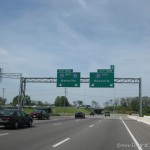 Coming off the Appalachian Plateau into the Basin area provided some wondeful views as we cross bridge after bridge over great expanses of riverways. The foothills of the Smoky mountains is an awesome place to visit – we decided we would return one day. The KOA we chose was a little off the I40 at Sweetwater and we were rewarded with a beautiful location and a virtually empty campsite. Pulling up we were releived to have driven a record breaking journey for us – 410 miles or thereabouts. A glass of red wine was our reward. Katie saw her first glow bug of the summer, yay. The neighbours had stories – they were from Cambridge (Canada) drove an ancient vehicle that also broke down and had 2 boys at home tearing the place up.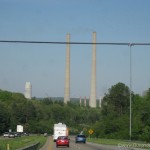 .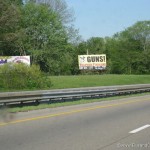 .