House of horror finds – previous repairs needed to be better
After a little digging around we realised the right side rear quarter panel on our Volkswagen Westfalia Camper had been repaired at some point but not only that there was more rust and corrosion than previously thought in the whole area.
Bumper off and flap wheel ready we attack the suspicious looking repairs to find this awaiting us;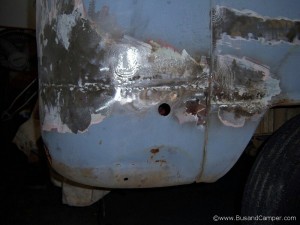 So we want to at least repair the lower rear corner from about the rear light down, this will help the battery tray job too;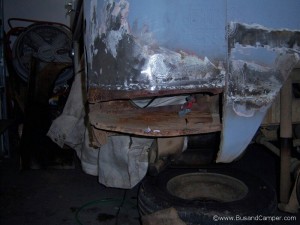 But in the reveal of the rear corner we also see something orrible in the wheelarch, so we dig around that too and see this;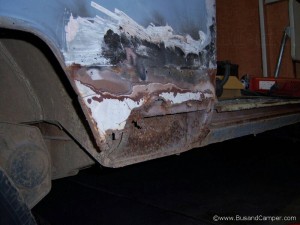 And then this too – note how the outer panel has rusted away;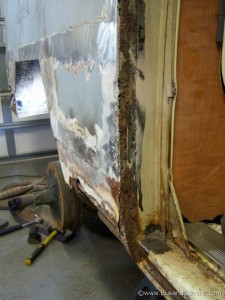 With the right repair panel – a complete wheel arch and short sill its a matter of cutting out, stepping the edge and then seam welding gradually, the end result is a finished panel ready for paint, our bodywork guy also seals the edge with a high strength 2 part epoxy making sure there are no high spots – basically ready for paint;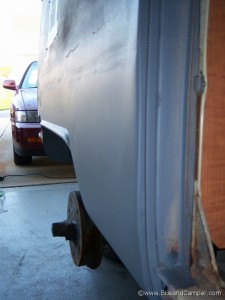 Mudguard needed replacing too, and then finally back to the rear corner for the same treatment;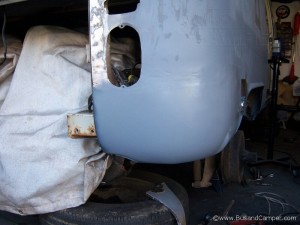 And the battery tray;

While we were under the Van looking at the long sill below the sliding door we noticed the jack point had been almost torn off and it all needed linking back together to make a good sealed structure, but to get at the inner sill, the inside of the jack point etc the whole splash pan had to be taken off, quite the repair but this is what we ended up with;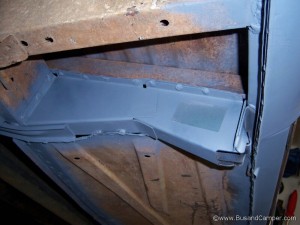 And the repaired / replaced long sill under the sliding door;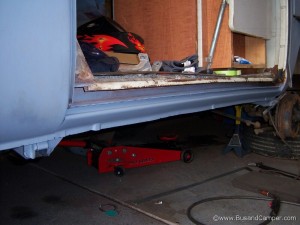 One corner done and a major part of the VW Camper repaired / made good. About 40 hours to get this far.