Our next project – this blog is how we bought her and our first impression – it will need much restoration and love
Introducing Lenoir – a standard 11 window Volkswagen Bus or Kombi. Lenoir is in desperate need of metalwork magic having suffered the ravages of rust for too many years. In this first blog we'll show her warts and all as we bought her in the US.
The next project, as we arrive we see a standard Bus in primer – not so bad;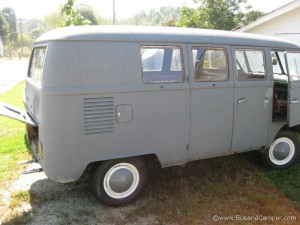 As we walk round the back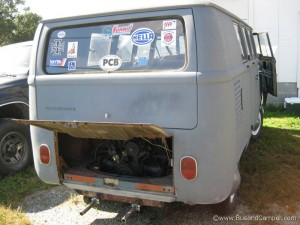 The long side;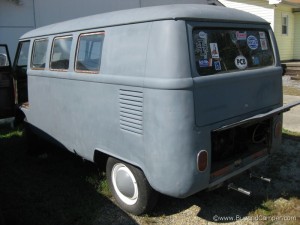 A quick look in the front door starts telling a story – if its been lashed up like this then whats underneath;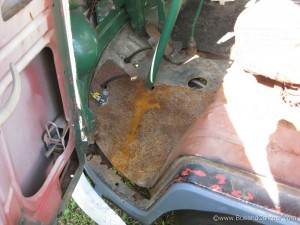 And this is the other side of the front floor hmm, looks like some major floor repairing action will be required;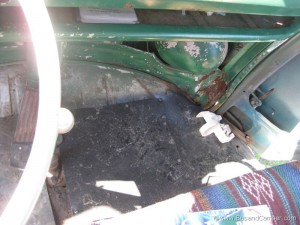 Moving round the front – there looks to be some bumper damage here which is fairly normal on a split, even a slight front end bump will likely push the bumper into the nose, and with drum brakes the probability of this is increased, this is an expensive looking crease;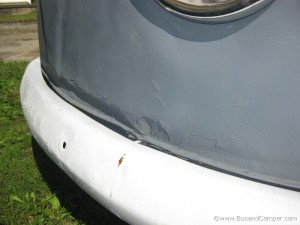 On top of the roof this corrosion will have caused some major water damage inside – confirmed later with a crusty and shrunken headliner that will likely need replacing;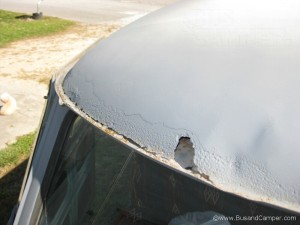 But this is the worst of it – here we see multiple issues – the bottom of the a pillar has been bashed, the nose is deformed in this area and likely everything else in the local area, not really covered or repaired with a lash up pop rivet panel and grey primer – a 50 footer repair maybe;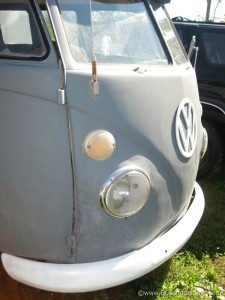 A quick look underneath the nose confirms extensive rusting of the lower inner nose – all this will have to come out and be repaired if its to come anywhere near the UK roads and MOT stations..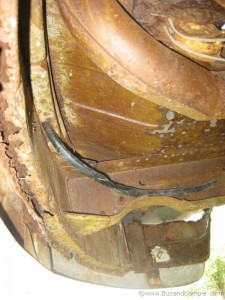 Then as if it needed confirming the sills or rockers on both sides will also need replacing, fortunately the main rails and the jack points were intact, this is the right side;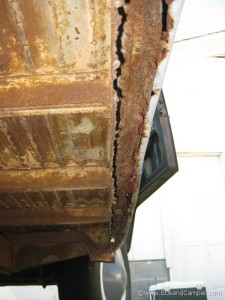 And the left side;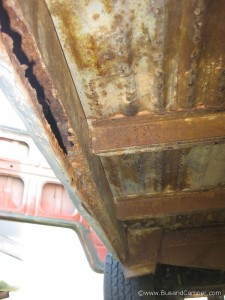 Finally something funky is going on in the engine bay, this looked alright until you look closer at the triangle gusset panel next to the rear valence – eww;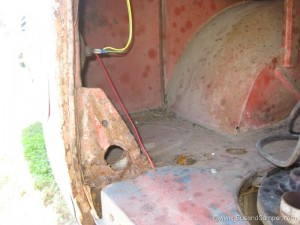 Overall as expected but by far and away the worst part is the a-pillar damage, this will need considerable repair. The sills and rear corners look fairly normal and at least there is a cargo floor in the bus with the main centre section of the chassis intact. Still this is quite a project to undertake. A deal was made, we paid too much for the bus, drove it around the block and then dragged it to our favourite welding guy.