Rear end rust in our project Bus and the restoration of the corners
In our series on VW Camper repair we turn our attention to the rear corners, first inspection after we bought the Bus home was not too bad. Oh dear.
First up is the right rear, perhaps the most common rusted out part of any campervan due to the battery being located in this corner. A quick exploration with a sanding disk shows a fairly ragged bottom. The same with the battery tray itself – not a lot left to save;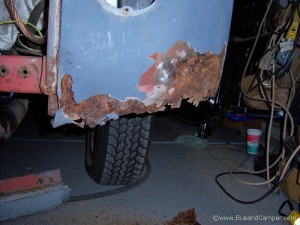 There are several versions of tray – commercial flatbed styles, Bus earlier battery strap style and Bus later battery strap style – this is the more common Gerson funky green panel KF1331 Battery tray. here we see the panel in place and the rear corner cut ready to accept KF1295 8 inch high that comes in just below the tail light opening.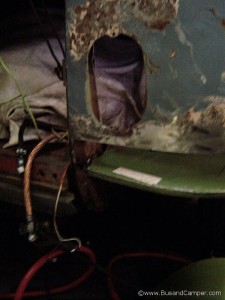 Once the tray is in place, the rear corner can be offered up and tacked in place, this is the skill part to make the butt joint on that complex curve takes a lot of correct measurements;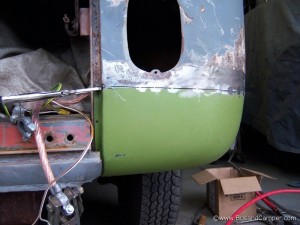 And pretty soon the weld is continuous and the tray is attached too. Here we see the weld cleaned up to make good the panel again.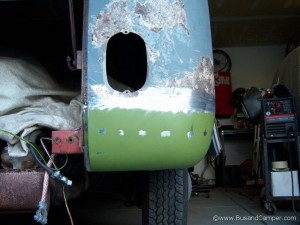 A shot of the inside welding, not too much heat or distortion evident here. We also see the battery clamping method that will require a strap to go over the top of the battery holding it with a clasp one side and a threaded stud the other;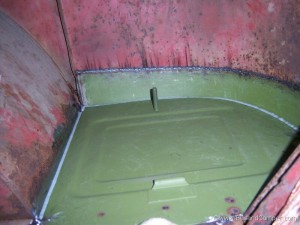 With enough careful clean up once the area is primered you can see how well the repair blends to the original part. A very light skim of filler and the repair is virtually invisible. Top quality workmanship;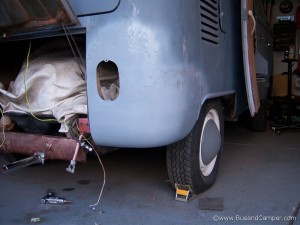 Next up is the left rear corner. At this point we realise this side had some sort of trauma before in its life, the supporting triangle shaped bracing panel is bent and distorted, signs of impact we guess. How much material could be saved in the corner?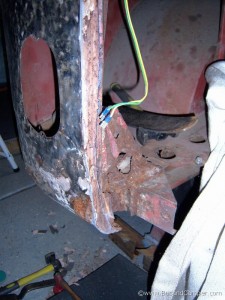 Fortunately we had an original rear corner salvaged from a scrapped bus that was good in that area. So from a crazy rusty and bent area to something that starts to look correct again;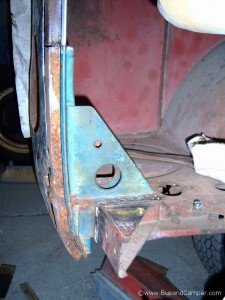 That was not the end of the repair – Lenoir also needed the channel that holds the decklid seal all the way up the left side, Randy our welding guru made this repair piece seen here tacked in place;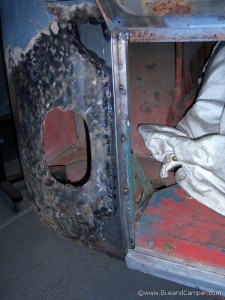 And a lower picture showing the full extent of the repair piece, complex curves, returns and folds to link the salvage part to the original rear corner;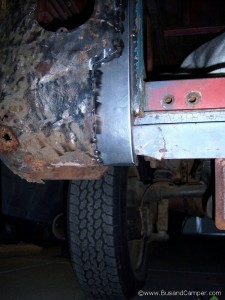 And a similar custom repair panel for the lower corner – a lot of English wheel in this one, and this would complete the repair to the rear end of this Bus;