This is the first bus we bought back in Oct 2002, bought through www.theSamba.com
This is the first bus we bought back in October 2002, bought through theSamba.com, this bus came out of Kansas. Looking lovely in its velvet green L512 probably original paint, nice fresh white bumpers – US spec of course and of course the safari windows, although these were aftermarket probably wolfgang made – they were steel in the early days and always white.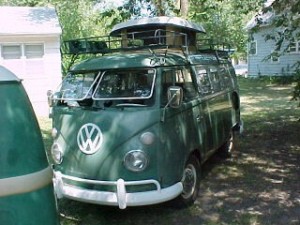 Although not our first purchase through the internet it was a brave step – no underneath pictures should have told us something… As it turned out we were a little blown away with the shear extent of the rust in the floorpans and frame etc. Pretty quickly we re-advertised in the UK and sold to Graham from www.fbivw.com.
This is the actual Samba page containing the listing in the way back machine – check out the prices – cool huh, the 66 westy is at the very bottom of this wayback page web.archive.org/web/20021015005100/thesamba.com/vw/classifieds/index.mv
These are the Samba pictures, here we can see the spice rack, door table, pop top, and racks front and rear. The racks have since had us puzzled – they are similar or could be VWOA but the addition of the small Jerry cans to the front rack is indeed a cool accessory from the day. Air intake mod over the air intake vents – popular in the day too. This would probably have been a B42 M108 optioned bus, there is evidence of the tent rails attached for a big top tent, suggesting this is a top of the line westfalia with all the extras.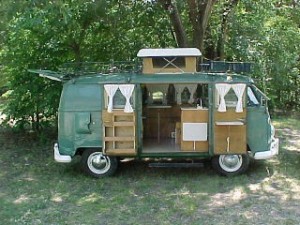 Interior shot showing a walk thu configuration, with stool, icebox, and funky light from the roof, curtains are not OG but brighten up the otherwise slightly gloomy interior. Complete with faucet or hand pump on the top of the icebox, there was a water bottle container behind the sink.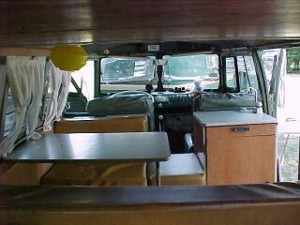 We love this sticker – it looks like an older NEATO style – cool huh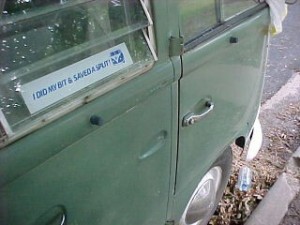 More pictures, this showing that wonderful mustard seats and wood panelling, white edging trim and those (fragile) plastic handles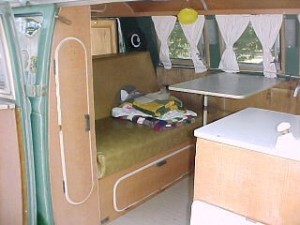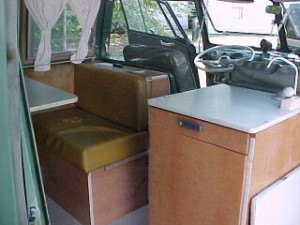 And finally this is a picture from the previous owners in Kansas – curtesy of www.vintagebus.com