Perhaps the most useful work vehicle we've owned
Bought in 2009 from ebay with a short description and 3 photos. Quite the gamble but the right ingredients were there – seating for up to 6 people and a covered load area for moving stuff around. Diesel powered so what could possibly go wrong..
1990 former German military T25 Doppelkabine or Doka fitted with a 1.7 non turbo diesel engine with approx 90,000 miles (148,000 Km). Economical for a T25 at about 35mpg.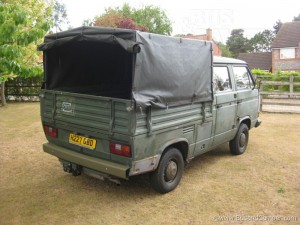 Fitted with a tow bar fitted but never towed – aspirations of towing anything heavy is curtailed when you drive a diesel powered T25. Shows original convoy markings and other military markings. Imported in 2005 or so.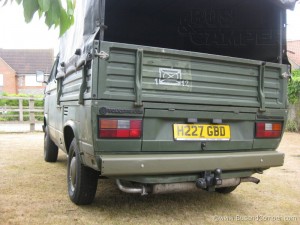 Brakes on a T25 work well being power assisted, the reservoir behind the instrument panel. Vacuum line runs from the back to the front of the Bus. Seating up front is bench style with 1+2 like the Bench splitscreens. The uber rare Hella map light also worked on the dash.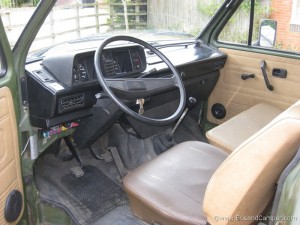 Type 25's steer light even when not power assisted – but to get this you'll need the correct load rated tyres. Here we see the size and awesomeness of that covered area on the load bed. Bundeswehr spec makes this a heavy ruberised canvas with straps and buckles to alllow it to roll up out of the way.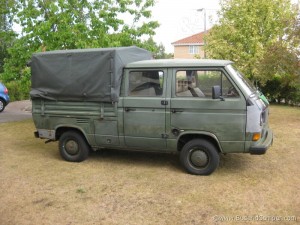 And the other side;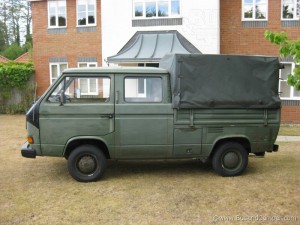 Original rubberised canvas and hoops for the load area gives this Doka an almost dry bed – great for transporting household stuff you don't want to get wet.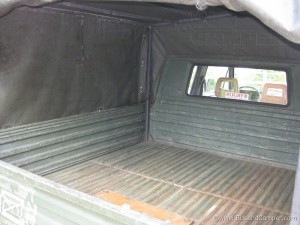 Seating for 6 inside – two bench seats. Lap belts for middle passengers. 4 speed transmission shifts well and no popping out of gear or funny noises. Heater works well and everything works apart from the analogue clock – common problem on T25's. All locks just serviced and on one key.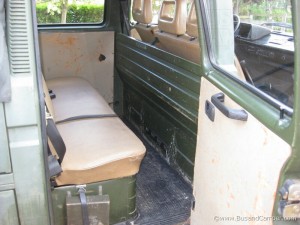 Seam rust is common on type 25's as is front door steps rusting. The sills on ours were perfect as were the major structural items.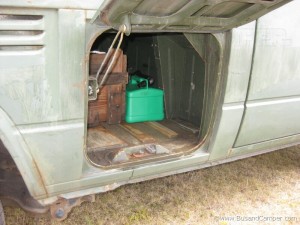 Dual treasure chest doors. Cames with military spec window covers and mirror covers and a cool set of snow chains. This doublecab was and still is perhaps the most useful vehicle – huge carrying capacity and covered transport. The next step was to forego the original paint and maybe go full camo paint – hand painted of course.
So what is wrong with something like this? Ever worked on an engine through this gap?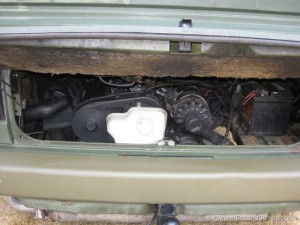 Admittedly there was a cover above the engine to make access better but it was still tight. What else? Being Army spec we suspect VW saved money by not fitting ANY sound proofing at all – this was a noisy ride. Better soundproofing and a more modern engine would make this a better vehicle.