Lowlight Bay Window Campervans are getting very desirable – this is ours
A pop top Campervan from Westfalia cemented Volkswagens postion in the recreational marketplace and here we take on perhaps one of the most popular of versions – a 1971 Westfalia Campervan or Campmobile. In this latest series of blogs we look at the purchase, our drive across America along Route 66 and our subsequent repair series of features on this EarlyBay Van.
Bought through ebay and from a well known dealer in Lake Havasu our 71 Westy looks great, new canvas on the pop top, correct interior and the description says the engine nd brakes work well. Could do with some attention to the nose it said but the lack of detailed pictures in that area did not put us off our dream which was to fly to Vegas and drive the Bus all the way to North Carolina along parts of Route 66. This is the series of pictures we bought the bus against, first off the pop top in all its yellow splendour, ladder on rear hatch, correct wheels, bumper present;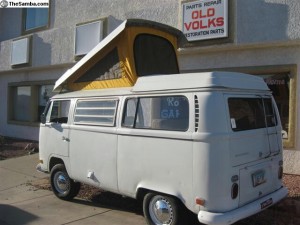 Front and side profile shots show the import badges under the front door, nose mounted spare wheel – a popular modification to these buses to allow more sleeping area in the back, front over-riders to correct early shape bumpers, lower mounted indicator lights hint at why these Buses are sometimes called lowlight Campers;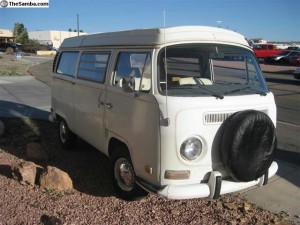 Drivers side picture shows correct wheelarches, electrical hookup, door gaps appear ok, roof fits correctly, side mirror present, and no suspicious looking repaint going on down low along the rocker panel, so far so good.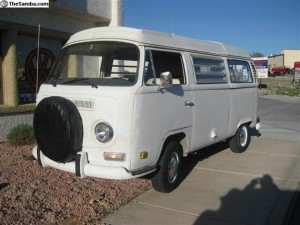 Engine is present and sporting a correct air filter, and the blue hose is hinting that the brake booster is fitted – confirming this 71 model is perhaps the most desirable of all – early features and later brakes. Looks like a new carburettor in there;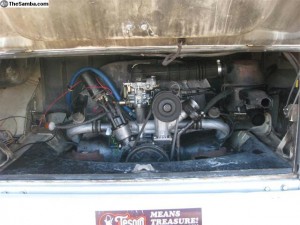 Up front there is seating for two people and these covers look replaced with correct basket weave patterns too, all good signs, dash is clearly later than split with its padding and veltilation – more modern. Black steering wheel, some sort of under dash tray, and speakers in the door panels, but all of this is cosmentic addtions, looks tidy enough and not too modified.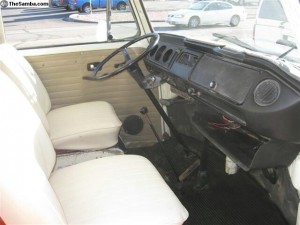 In this picture we see the buddy seat behind the driver, so far so good, but the often missing icebox is not present (we later negotiated its return for the sake of ocmpleteness. This buddy seat is the slightly later version with a higher back pad – earlier ones had a shelf with cubby hole feature. The flooring looks to be the right westy material, wooden headliner, electrical outlets present, all ok;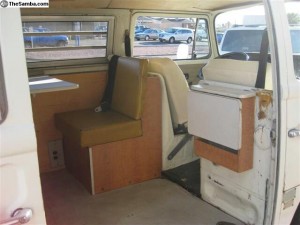 This is one of the most common views of a westy – the view into the the seating and sleeping area. The table folds downa dn the bed pulls up into a double bed – called a rock and roll bed – odd name and nothing to do with what goes on there, correct colours and materials throughout on this picture, all present and correct;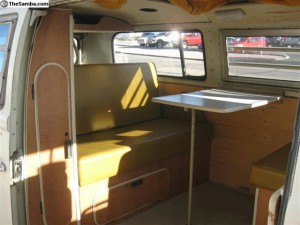 Finally this is with the rear hatch open and looking at the rear bed in its seating position, here we see where the spare wheel should be on the left side of the rear cushion and this is why moving the wheel out of the cabin area is a popular modification, larger sleeping area. In this picture we see some of the rare Westy parts are here, dual coat hooks, grab handle, interior light and the overhead cupboard are still present;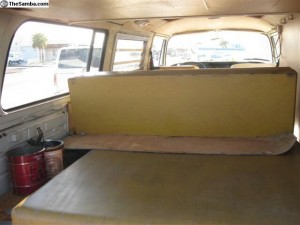 Overall this looks to be a mostly complete baywindow in straight condition. The inter#ior althought no tmint retains its furniture and mustard coloured vinyl. The pop top is present and has a new canvas – we were sold, this looks like a fly in – drive home deal. And this is precisely what happened. Blogged here at busandcamper.