Leaving AZ and onto the arrow straight roads of New Mexico – day 3 of our Route 66 trip
Route 66 – sometimes called the Mother Road of America is one of the original US Highways spanning over 2000 miles from Chicago to LA. Here we travel from Flagstaff Arizona to Grants in New Mexico.
On way out of the excellent KOA in Flagstaff we saw a Singlecab Splittie Bus and had to take a picture, thats an vintage VW every day so far. Parked next to it was a T25 with a great collection of stickers in the window. Anyway, in Flagstaff we bought an electric kettle for hot tea (we are English) and some more blankets – it was getting cold at night despite being mid April. We made a stop at Autozone for a timing light to make sure we were getting all the horsepower we were meant to with the replacement points. We were back up to full power – a breathtaking 65mph or so on the flats.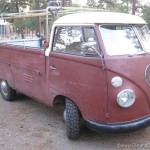 .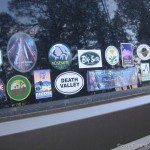 .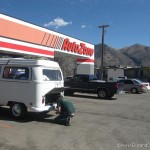 Just outside Flagstaff we had miles to cover so we figured we had not time to stop at the Meteor Crater but we for some reason we did manage to stop at an Indian outlet to stock up on more blankets and gifts for the children. At this point we were still in Arizona (exit 239). As we got out we witnessed a massively long train trundle past, this was a very long train, in view for minutes and this one was loaded with tanks. After shopping we took some pictures of the Camper next to what appeared to me to be about the largest dream catcher ever seen – everything here is in bigger scale.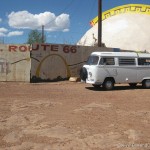 .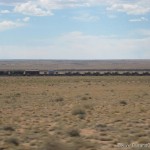 .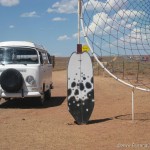 On the road again we drove past Cholla power station – another massive man made construction, past the Geronimo trading post, past the Petrified Forest National Park – apparently this is Apache country and it shows with the buildings, trading posts and other cool names like the Chieftain Inn, Apache County Road. How about that wooden Fort Courage outside Chee's Indian Store just before the state border at New Mexico thereby crossing our first state border – exciting times.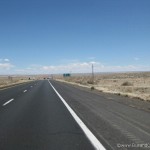 .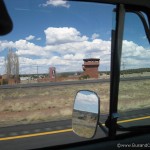 .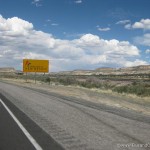 New Mexico – the land of enchantment. Certainly has some great scenery, and slowly but surely the colour is starting to change. Day 1 was all about scorched earth, no colour and nothing growing, but here plants are starting to survive and the challenges of living here become reduced judging by the now more common townships along the way. This must have been rough country back in the day. We got as far as the KOA at Grants before pulling in for the day and a couple of cold beers. Down came the yellow chairs we had been carrying from NC, via hand luggage and the top of the Westy for 3 days. Comfy living indeed. Would we recommend this KOA – we would but only the RV side – for some reason we were rented the $5 tent site for our cute lil Veedubya. Ok, wont make that mistake again.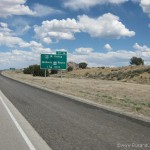 .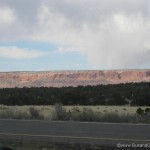 .