Camping across America in a Westfalia you bought on the internet
Want to see some awesome parts of America – this is how we bought a VW Camper near Vegas and proceeded to drive it across the middle of America to (eventually) North Carolina. Some highlights and pictures from this trip – including the challenges in a 40yr old VW.
Ok so this is the plan, search the internet for something on the West coast and then fly in and drive home – what could possibly go wrong? We had a budget for a Camper and this meant a Bay window, and it should obviously be running driving and have some camping interior. Eventually we settled on a 1971 Bay from a well known dealer in Lake Havasu – the spring break getaway with its own London Bridge we kid you not. So we packed some tools, light enough to carry on a plane, and google confirmed there was a WalMart in Havasu (see the plan), and off we went. The hire car was useful to get us to Hoover Dam (wow)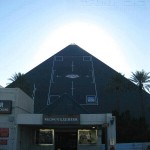 .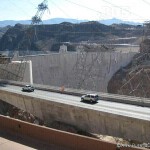 .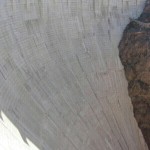 Collecting our vehicle from the dealer in Havasu went smoothly, he showed us round, talked about funky green panels, and we set off. Drove past a Dans Auto Salvage on the wy out of Havasu – complete with a splitscreen on the roof, then stopped at Walmart to buy all our supplies for the trip, camping equipment etc. On the equipment shipping list was stove and fuel, plates, cutlery, 12v fridge, wheel brace and bedding. Oh and food and beer. Our first lunch stop;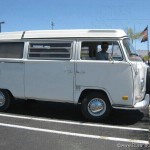 .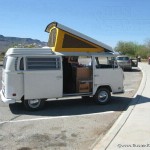 .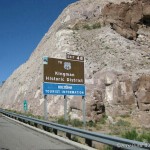 We started Route 66 at Kingman AZ, stopping at the famous Hackberry general Store. This is almost a museum of collectibles – fantastic place, take a look at the range of pictures, a classic 60's Vette, old gas pumps, pepsi fridges, we could spend all day here looking around.

.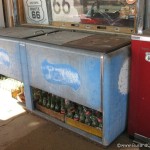 .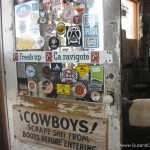 Time to give the Bus another look over – we're very happy with the purchase, no signs of rust, or previous bodges – these dry states in the West of the US seem to preserve their vehicles well. Here we have some gatuitous shots of the new purchase against the backdrop of Hackberry General Stores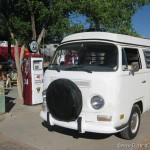 .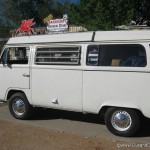 .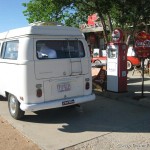 Not far out of Hackberry the engine cut out and we coasted to a complete stop. Stepping out of the Bus we heard… nothing, absolutely nothing. No cicada, no traffic, no interstate hum, no aeroplanes, nothing but dead silence. Oh and the cell phone had no signal. Hmm, this could get interesting as we had passed no traffic in the last 30 minutes – we were alone. At least we had water and an owner who knew a thing or 2 about old VW's.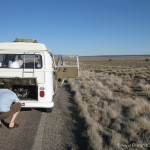 .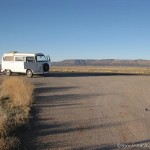 .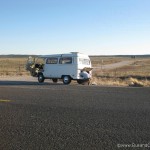 Problem diagnosed as a broken set of points in the 009 distributor, which should be a very easy fix as everyone carries a spare set of points around don't they – well not us having just collected the Westy. With some careful use of tyraps we were up and running again, enough to get us to the next town – Seligman where we found an RV park. We were a little small compared to other vehicles there but we had hookup, toilets and a nearby garage for consultation in the morning. So we made good and lit the stove and cooked up a fantastic meal helped along with some red wine. Perfect camping for a VW Camper vacation. The last picture shows our newly purchased Fanchers screen blinds – perfect blackout;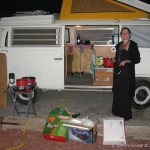 .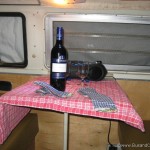 .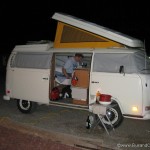 Next blog is day 2..