One of the more popular colour combinations for a VW Camper
A deep red in colour – L555 titian red lower with L472 beige grey upper – this was a VW Camper colour scheme for model years 1966 and 1967 split screen buses (interestingly titan red was also used for 1968 bay window buses). The VW museum would call it tiziano rot – the German version of the name.
Why the interest in this colour scheme? Its certainly popular and makes for a stunning cliche'd two tone bus, a rich deep red on the lower half with a complimenting light beige colour on top – the two tones matching very well.This is to be the chosen colour for the show bus restoration of 67 13w featured on busandcamper.
If you've ever wondered what colours are what and when – there is a very detailed guide on www.wolfsburgwest.com for the colours of almost every component in each colour scheme and year.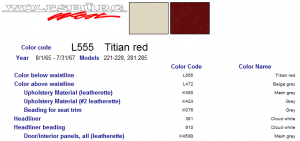 Below is a very good example of how that colour looks after 30 years – this bus is considered to be original paint and finish – clearly a well loved or cared for bus, notice the red has faded and the top colour is now almost white in colour – the digital age of monitors will make this even more extreme.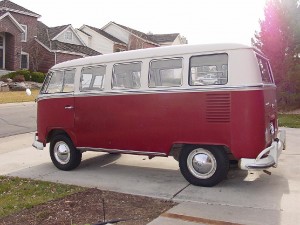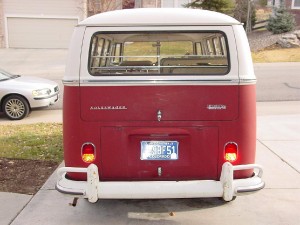 And here are a few pictures of how that colour is portrayed or interpreted with modern paint, always a stunning combination – each bus is different and in different parts of the world.