VW Camper parts restoration – map pockets to 1963
Early VW Campers from 55 or so through to 1963 had front door trim panels with pockets – small packets for maps and other necessary VW related equipment – big enough for a torch or a map etc. In 1964 the pockets were deleted in favour of a door detent arm arrangement – the two interfering with each other meant the pockets were no more – or that they were a cost saving. These pockets were, like the original panels, made from fibreboard, and over time they absorbed moisture and will gradually deteriorate until they cease to function.
This is what the original door cards look like after 40 years or so – next to a set of replacement map pockets from Werksberg and BusandCamper;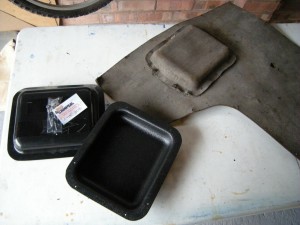 Next to the original door cards are new ABS panels made by Werksberg – they are exact replicas of an original pair of pockets curtesy of Brian and Jake at Monkeynut VW in Charlotte NC www.monkeynutvw.com.
The plastic can be painted – with suitable surface preparation and some time, first off you need a good degrease of the surface to remove oils and silicones, then key the surface with scothbrite or scouring pad, wash off the materials with soap and water, use a good plastic primer and then a compatible top coat for a good finish. A compatible top coat for plastics has some element of flexible to it – modern car bumpers are painted plastic.
This is a custom cut front door panel that has been covered in material ready to accept a painted door pocket;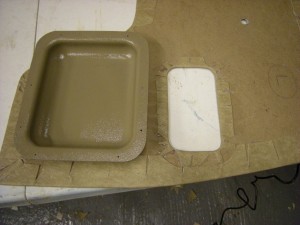 Using large head rivets to hold the pocket to the panel this is what the pocket looks like from the front;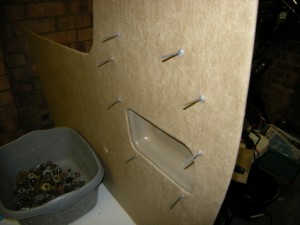 This is how the pocket looks from the back – be a super idea to paint the remaining areas of the fibre panel with a waterproof coating like Thompson's water seal;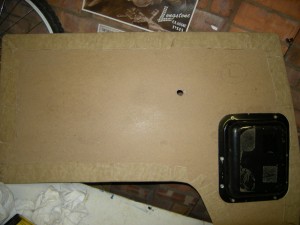 And this is the finished result of those pockets on a nicely covered door panel – turned out rather well;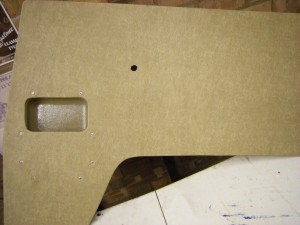 All pictures curtesy of Neil Barker – thank you.